Archive for Moore Square
Free Health Screenings
When:  Tuesday, November 13 from 8:00am-1:30pm
Where:  Marbles Kids Museum, 201 E. Hargett Street
You're invited to a free community health event on Tuesday at Marbles. This event is open to the public and attendees can access free health screenings for cholesterol, blood glucose, and body mass index, as well as education materials about the importance of medication adherence, access to Kerr Drug pharmacists to review medications, and discussion sessions with diabetes educators and health coaches.
Script Your Future, a national medication adherence campaign, is teaming up with the North Carolina Alliance for Healthy Communities, Kerr Drug, NC MedAssist, and many others to provide this free community health event in downtown Raleigh.…
[ Read More → ]
Couture for a Cause, a fashion show to benefit local nonprofit Activate Good, expects to draw a crowd for their fourth annual fundraiser.
When: this Saturday, November 10, Doors open at 7:30
Where:  Marbles Kids Museum.
Tickets: advance tickets are $25; at-the-door tickets are $30. VIP tickets will be available for $75.
Whether you're a lover of fashion or philanthropy (or both!), this event is not to be missed! The fashion show pairs local designers with Activate Good's nonprofit partners to create looks inspired by each cause's mission. There will be 19 designers, creating a total of 38 pieces (one "ready-to-wear" and one "art-to-wear") that represent 17 Triangle-area nonprofits.…
[ Read More → ]
Public loitering in front of the Wilmoore Cafe and other businesses adjacent to the Moore Square transit mall have prompted the Raleigh Transit Authority to propose a change to the current R-Line route.
The proposed change will move the current R-Line stop #16 from its current location to south of Martin Street. Unfortunately, the daytime route will also be extended to include three additional stops (R17-19) – see map.
While transit riders have experienced the congestion around this R-Line transit stop for some time, it was this report through the SeeClickFix app that got the city's attention.
People loitering in front of the businesses surrounding Moore square transit station has become a huge problem and is of great concern to customers and business owners.

…
[ Read More → ]
About a year ago, my husband Jim and I were making a loop from City Market to Wilmington and Hargett Streets. looking for underutilized properties that might serve as canvases for BEST (Beautifying Emerging Spaces Together).  Looking through dusty, barred windows at 333 S. Wilmington, we were surprised when a young man came to the door.  It was Zack Hodgin, then a Senior design student at NC State, who together with his friends, Brian Besterman and Josh Staab had rented this run down property to open a screen printing shop they called INKandescent.  We were immediately impressed with their vision, and equally so with their willingness to do the Herculean work of renovating the property themselves.…
[ Read More → ]
We have lived downtown for six years, and continue to hear all about the new restaurants and bars opening up.  These amenities provide great entertainment for us and I love the energy and the enthusiasm, but I was more excited about hearing the news that we have new doctors downtown providing primary care. That's right, we now have a primary care physician practice downtown—four doctors to be exact.  Having a critical service like this is an important addition for the residential base downtown. You can be sure  it didn't take me long to walk down and sign up.  I have been a patient with Dr.…
[ Read More → ]
This is a guest post provided by Sandra Simpson at Greetings from Green NC, a new site about sustainable practices and food around the triangle. I challenged Sandra to come up with a list of things to do for Earth Day and here is her list.
Downtown Raleigh NC rocks, and when it comes to observing Earth Day, there are many choices to be enjoyed-not just on April 22nd, but all month long. Here are my top ten picks for saying, "thanks Mother Earth."
10. For a short stroll, park your car and take a walk around City Market and Moore Square.…
[ Read More → ]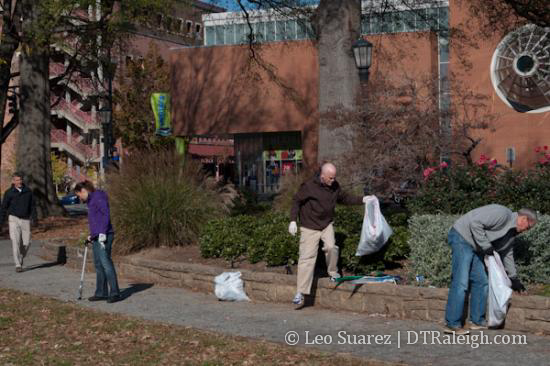 On a beautiful sunny Saturday, members of the DLA met up in Moore Square and picked up trash. If you don't know already, the DLA has adopted Moore Square and will be planning more cleanups in the future. Typically the cleanup lasts an hour with a lunch outing immediately afterwards.
Thanks to all the members who showed up as well as the new friends from Activate Good.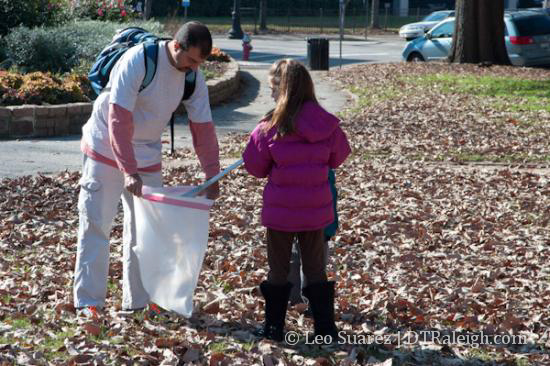 …
[ Read More → ]
It's happening across the country. Whether it's the WALK (Window Art Local Knowledge) Gallery transforming vacant storefronts on King Street in Charleston, or THE AWESOMEST ART THING EVER that has rejuvenated twelve vacant storefronts in Hartford, artists are coming together to fill windows of neglected city properties with images of hope and possibility. The stated goals of AATE are typical of many of these projects:
Cultivating a new appreciation of the downtown area, encouraging pedestrian activity and engaging the urban environment in a creative dialogue.
I join the DLA and Tipping Paint Artists in holding this vision for Raleigh, and even something more. As residents, we walk by these windows every day and wonder how we can support not just the Raleigh arts and business communities, but create a means of communication and empowerment to Raleigh's residents of all ages and backgrounds. Given the chance to share their words and images, what would they say?
…
[ Read More → ]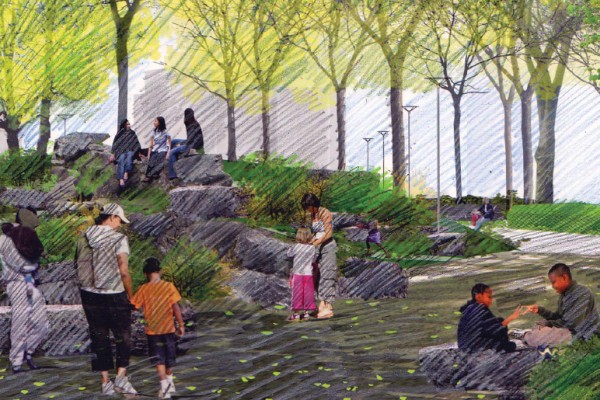 The next step in the Moore Square Redesign takes place next week with a meeting for public comments on the draft master plan. Download a pdf report of the plan from the city's website (at 'DRAFT Master Plan' in the right sidebar) or here directly. The meeting to go over the plan and have an opportunity to ask questions and submit comments is at:
5:30-7:00pm
Thursday February 17th, 2011
Chavis Community Center
505 Martin Luther King Junior Boulevard
Diving into the draft plan, we see estimates for how long this project will take and how much it will cost.
The Master Plan process is coming to a close soon with this final review and plan.…
[ Read More → ]
If you've waited at the R Line stop by Moore Square Bus Station, you've probably noticed what the architect, Roberta Fox is addressing in her preliminary studies for revamping the area. Hired by the city to spur a master redevelopment plan in the 1st quarter of 2011, Roberta has built a model of the station and surrounding area. Using the model, which includes interlocking pieces that can be moved around, Roberta showed me some of her ideas that would improve capacity for handling more bus traffic and parking within the facility.
My query started with David Eatman, City of Raleigh Transit Administrator. David explained that the Moore Square Station did indeed present some challenges for the city. CAT buses idle on Wilmington and Blount Streets, queuing there because there aren't enough parking spaces within the facility. Looking out ten years, David says that 40-80 more buses will be required to handle the projected increase in population.
…
[ Read More → ]