Archive for Glenwood South
What do Paris, France, Happy Hour, wood-fired oven baked offerings and neighbor have in common? 518 West
518 West Italian Cafe has been a fixture to Glenwood South for the past 17 years.  Residents began to move into their "backyard" 4 ½ years ago.  Styles have changed and the needs of residents have changed.  518 West has started to make big changes too.  In the past 6 months they have brought on a whole new management staff, including a chef straight from Paris,France, Serge Falcoz-Vigne.
Serge gets especially excited talking to customers about his love for cooking and using all local produce in his recipes.  When I asked him what he did to make the Chicken Marsala even tastier, he responded "better wine and hours of simmering.  We open early to make all of our items fresh (including pasta), so why not start cooking the Marsala early?"
I asked Serge, "What do locals want in a neighborhood restaurant?"
His answers:
A place to go where they know your name
A place where management acknowledges you as a local
A place where neighbors can meet for drinks, eat, and socialize without dumping their wallets
Serge is just one more reason I love living in a downtown condo. I feel like I have the LARGEST family ever.…
[ Read More → ]
Picture driving along West Peace Street, between St. Mary's and West Street; a busy street with missing or torn up sidewalks, unable to meet the demands of school and work traffic.  As a primary traffic corridor for east Raleigh neighborhoods, Cameron Village and the State Government Center, it reflects a lack of appeal, as well as safety.  Now you have an opportunity to let the city know that they have your support in making welcome improvements.
Here's the backstory
Five years ago the West Peace Streetscape Improvement Plan was created, originally planned as phase 2 of the Glenwood South streetscape improvement project.  But in response to the economic recession in 2008, the previously allocated $1.3 million construction fund was placed in an economic reserve account where it remains today.…
[ Read More → ]
Everyone loves a good view. In real estate, I've found this is one of those things that makes someone fall in love immediately with a place. For this reason and knowing about many places in downtown Raleigh, I have to say the Residences at Quorum Center are one my absolute favorites!
My husband Manuel and I re-discovered this building in downtown Raleigh after I sold our home in 2011, looking to live downtown Raleigh and to experience city life. Boy, did we make the right choice! This building is unlike any other in downtown in terms of the upscale details and the amazing views.…
[ Read More → ]
When my husband and I decided to buy a condo in downtown Raleigh, we wanted a building with concrete construction and double walls for noise control (drywall, insulation, air space, insulation, drywall) and a pool. During the summer of 2007, after shopping around and doing our homework, we were thoroughly impressed with The West.  The West has 8-inch concrete in the floor and ceiling with double walls between units and the heated pool is on the rooftop. There are no units overlooking the pool so you don't have people watching you from above and you don't have to worry about disturbing your neighbors when cranking the tunes and getting rowdy.…
[ Read More → ]
You've probably noticed the constructions sites that have sprung up everywhere you look in downtown, from Cameron Village to St Mary's, to Hillsborough Street.  Having seen past booms that saturated the market with too much office space, too many spec homes and condos that sat empty, some are questioning the wisdom of developers who have jumped into the present apartment building craze.  Here is some perspective for the next time this comes up in a conversation with other downtowners…
This time is different!
Developers and the banks behind them are not taking risky bets this time.  Developers are focusing only on rental units, catering to 'Generation Rent'.  And Raleigh is part of a national trend, as downtowns have begun growing faster than suburbs for the first time in 100 years!…
[ Read More → ]
Joe Minicozzi, a new projects manager of a firm which drove the revitalization of downtown Asheville has taken his show on the road, convincing other cities:
If you've got underutilized buildings in your downtown, do anything you can to fix them up, because that's where your wealth comes from.
The bottom line is that per acre, high density areas have the potential to generate much more public wealth than low-density subdivisions or massive suburban malls.  Taking into consideration the revenue they bring in, downtowns cost considerably less to maintain in public services and infrastructure.
Growth in low density development works like a pyramid scheme. 
Low density development isn't just a poor way to make property-tax revenue, it's extremely expensive to maintain.  In fact, it could only be feasible if we're expanding development at the periphery into eternity, forever bringing in revenue from new construction, helping to pay for the existing subdivisions we've already built.…
[ Read More → ]
The opening statement of the Capital Blvd Corridor Study Report describes it as "the most travelled and least-loved gateway into Downtown Raleigh." Now is the time to consider options that will make this road system into an entranceway that invites a more pleasant, pedestrian and commuter friendly gateway into Downtown.
The city has just issued its updated vision and recommendations for the corridor, and opened a one month public comment period.
It's a 65 page report, so I've identified some of the key items likely to be of most interest for residents who live, work or play in the northern end of Downtown Raleigh, in and around the Peace Street Corridor.…
[ Read More → ]
Anyone who has traveled by foot, car or bike along Peace Street near the interchange with Capital Boulevard knows the difficulty of navigating this congested area.  There's no question that it's badly in need of a make over.  Good news!  There are plans underway to not just fix problems, but to transform this northern end of Downtown Raleigh into an attractive, vibrant place to live, work and play.
What starts with required bridge replacements over Peace Street, ends up driving a huge redevelopment opportunity with a new city park.
Here's what's in store.
It all starts with the North Carolina Department of Transportation (NCDOT) replacing the "structurally deficient and functionally obsolete" Peace Street bridge.  Built in 1948, the bridge is nearing its useful life, so this action is unavoidable.  A public hearing on the bridge replacement project is planned for fall 2012, with construction projected to start in 2016.
…
[ Read More → ]
Just a little over a month ago we counted up 1,354 apartment units planned on the west end of Downtown, including 550 units in Glenwood South. Read about it here.
This area remains HOT for development, and despite a tight credit market new apartment buildings are getting the green light from banks.
This new surge in Downtown residents is welcomed by all!
Here is an image showing the area where a 6-story apartment building is planned to rise over Glenwood Avenue.  The developer, Blue Ridge Realty, has cobbled together 3 properties totaling 1.21 acres that sit in the heart of the busy Glenwood South Entertainment District.…
[ Read More → ]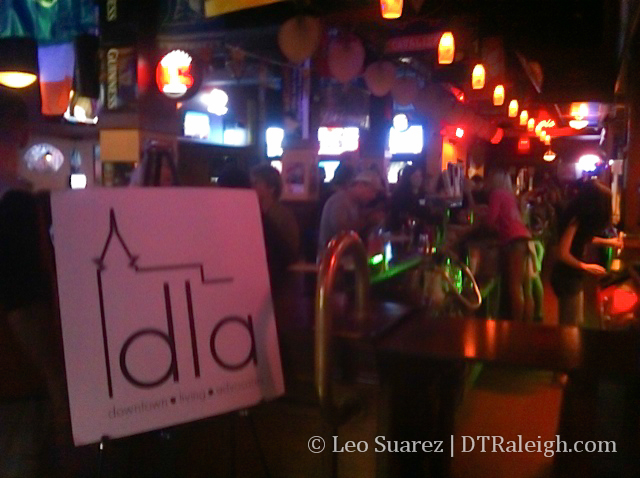 The DLA held their mixer at The Downtown Sports Bar and Grill this week. Lots of members showed up to enjoy a free drink, food, and participated in a raffle to win a 32″ LCD TV. Plans for the next mixer are still in the works but expect it to be in January of the new year.
Make sure to sign up for future updates and mixers or check the calendar.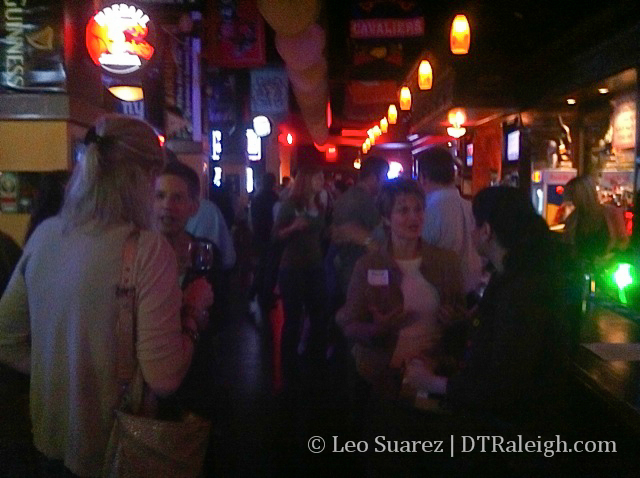 …
[ Read More → ]