Archive for Food & Drink
More and more people are finding themselves like me, apologizing as we look up at a waiter asking questions like, "Is the flour organic?" "Is the filet grass-fed?" There are jokes about consumers like us, but food allergies aren't funny at all, if you suffer from the effects of chemicals and additives.
Surprisingly, I found the answer to all my questions at the DLA's Battle of the Pizza, an event held in June to welcome new residents at 927 West Morgan Street Apartments.  The winner of the pizza taste-off and owner of Clockwork, Souheil Al-Awar, has turned his zeal for fresh, chemical free ingredients into a creative menu that would suit any palate.  He explains, "I can eat here because it's all homemade and fresh.  It's like eating in your own kitchen.  Food takes a little longer to prepare because it is made from scratch.  If you order an organic salad with the Orange Vinaigrette, the vinaigrette is made at the time of the order.  Fresh grated orange peel, olive oil…..…
[ Read More → ]
My wife and I have owned our condo at 510 Glenwood from the beginning, when it was built 13 years ago.  We were excited then to live in downtown Raleigh's first mixed use building.  For years, we used the shorthand – "above Bogarts" – when telling new friends where we lived.  Then it became "where Bogarts used to be."  That became the front of a long tale, as it was joined by other Rocky Top Hospitality closings: Draft and Red Room.  Cantina South and Krave (Bogarts and Red Room replacements) both had short stays.
But now we're getting ready to tell a new story.…
[ Read More → ]
For the past couple of years I've had the great pleasure of living about 100 yards from the amazing food and people at The Market Restaurant. Chad and his staff are great and the food they've been putting out at Market is only matched by the sense of community they've fostered in that space. So, naturally, when I heard that Market was moving I nearly had a panic attack, but luckily I found out they were moving just down the road. After I calmed down I quickly realized that there was going to be an empty space in our community.
That empty space kinda scared me.…
[ Read More → ]
What do Paris, France, Happy Hour, wood-fired oven baked offerings and neighbor have in common? 518 West
518 West Italian Cafe has been a fixture to Glenwood South for the past 17 years.  Residents began to move into their "backyard" 4 ½ years ago.  Styles have changed and the needs of residents have changed.  518 West has started to make big changes too.  In the past 6 months they have brought on a whole new management staff, including a chef straight from Paris,France, Serge Falcoz-Vigne.
Serge gets especially excited talking to customers about his love for cooking and using all local produce in his recipes.  When I asked him what he did to make the Chicken Marsala even tastier, he responded "better wine and hours of simmering.  We open early to make all of our items fresh (including pasta), so why not start cooking the Marsala early?"
I asked Serge, "What do locals want in a neighborhood restaurant?"
His answers:
A place to go where they know your name
A place where management acknowledges you as a local
A place where neighbors can meet for drinks, eat, and socialize without dumping their wallets
Serge is just one more reason I love living in a downtown condo. I feel like I have the LARGEST family ever.…
[ Read More → ]
We love our mixers!  Over 100 downtown friends and neighbors joined the DLA to check out the NEWEST 80's & 90's bar: Coglin's Raleigh.
…
[ Read More → ]
This is a guest post provided by Sandra Simpson at Greetings from Green NC, a new site about sustainable practices and food around the triangle. I challenged Sandra to come up with a list of things to do for Earth Day and here is her list.
Downtown Raleigh NC rocks, and when it comes to observing Earth Day, there are many choices to be enjoyed-not just on April 22nd, but all month long. Here are my top ten picks for saying, "thanks Mother Earth."
10. For a short stroll, park your car and take a walk around City Market and Moore Square.…
[ Read More → ]
Downtown Living Tour will include homes, as well as unique urban shops and restaurants offering a discount to attendees.
As in the previous eight years since the tour began, ticket holders can visit a variety of homes ranging from multi-tenant buildings to single family houses. But this year's home tour is expanding beyond downtown dwellings to focus on the experience and benefits of urban living.
Downtown Raleigh continues to attract a diverse set of residents, who are seeking the benefits of a more urban lifestyle.  From innovative young professionals looking to more naturally collaborate and build social networks to empty nesters ready to simplify their lives and enjoy a more walkable and healthy lifestyle, downtown Raleigh is now more attractive than ever.…
[ Read More → ]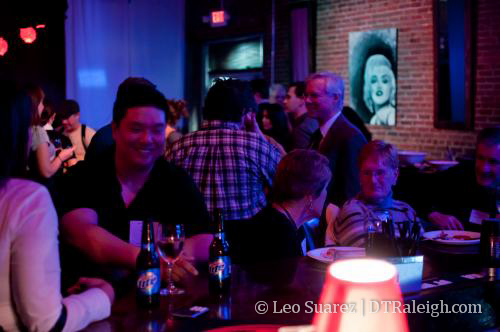 DLA members came out to Spy Raleigh on February 1st to mingle with neigbors and participate in a raffle for discounts at nearby businesses. This mixer was special this time because it marked the three year anniversary of the Downtown Living Advocates.
At the mixer, participants also had the oppurtunity to pre-order the first DLA t-shirt designed by CityFabric.
Make sure to keep an eye on the event calendar for future mixers and other meetups in downtown Raleigh.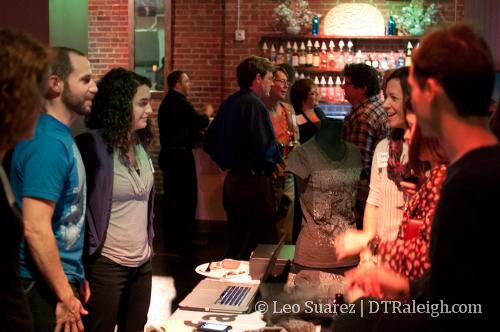 …
[ Read More → ]
Can you believe it has been three years since the DLA formed?  We can't either!  We couldn't have done it without such an active community of residents who care so much about Downtown Raleigh.
DLA Mixer
Wednesday, Feb 1st
5:30-7:30 pm
RSVP:  http://bit.ly/dlafeb1mixer
RSVP by noon on Wednesday and we'll have your name tag and raffle ticket waiting for you.
Dinner Plans?
 First 50 guests receive a $5 gift certificate to
Tuscan Blu
.
DLA T-SHIRTS FOR SALE  
City Fabric
has designed a one-of-a-kind T-shirt for the DLA to celebrate our 3-year milestone.
COME PLACE YOUR ORDER AT THE MIXER THIS WEDNESDAY
$20 for a custom designed t-shirt 
Get the right fit – shirts on hand at our mixer to try on
Payment by cash or check preferred (credit cards also accepted)
Shirts should arrive 2-3 weeks later
…
[ Read More → ]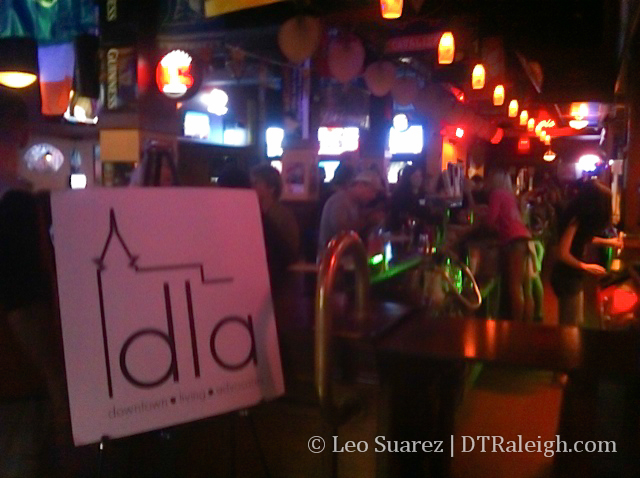 The DLA held their mixer at The Downtown Sports Bar and Grill this week. Lots of members showed up to enjoy a free drink, food, and participated in a raffle to win a 32″ LCD TV. Plans for the next mixer are still in the works but expect it to be in January of the new year.
Make sure to sign up for future updates and mixers or check the calendar.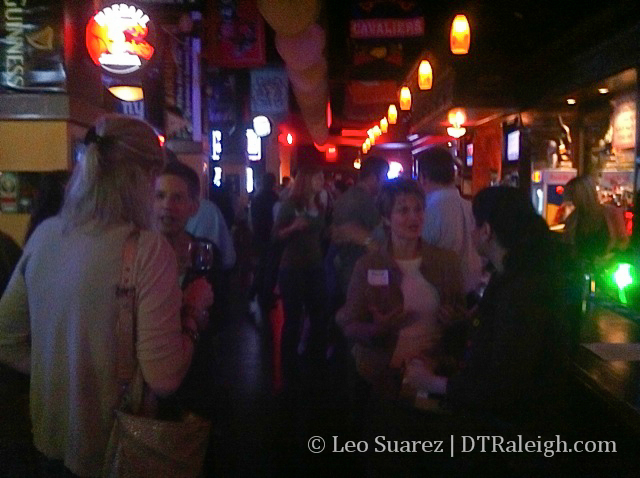 …
[ Read More → ]