Archive for Food & Drink
What do Paris, France, Happy Hour, wood-fired oven baked offerings and neighbor have in common? 518 West
518 West Italian Cafe has been a fixture to Glenwood South for the past 17 years.  Residents began to move into their "backyard" 4 ½ years ago.  Styles have changed and the needs of residents have changed.  518 West has started to make big changes too.  In the past 6 months they have brought on a whole new management staff, including a chef straight from Paris,France, Serge Falcoz-Vigne.
Serge gets especially excited talking to customers about his love for cooking and using all local produce in his recipes.  When I asked him what he did to make the Chicken Marsala even tastier, he responded "better wine and hours of simmering.  We open early to make all of our items fresh (including pasta), so why not start cooking the Marsala early?"
I asked Serge, "What do locals want in a neighborhood restaurant?"
His answers:
A place to go where they know your name
A place where management acknowledges you as a local
A place where neighbors can meet for drinks, eat, and socialize without dumping their wallets
Serge is just one more reason I love living in a downtown condo. I feel like I have the LARGEST family ever.…
[ Read More → ]
We love our mixers!  Over 100 downtown friends and neighbors joined the DLA to check out the NEWEST 80′s & 90′s bar: Coglin's Raleigh.
…
[ Read More → ]
This is a guest post provided by Sandra Simpson at Greetings from Green NC, a new site about sustainable practices and food around the triangle. I challenged Sandra to come up with a list of things to do for Earth Day and here is her list.
Downtown Raleigh NC rocks, and when it comes to observing Earth Day, there are many choices to be enjoyed-not just on April 22nd, but all month long. Here are my top ten picks for saying, "thanks Mother Earth."
10. For a short stroll, park your car and take a walk around City Market and Moore Square.…
[ Read More → ]
Downtown Living Tour will include homes, as well as unique urban shops and restaurants offering a discount to attendees.
As in the previous eight years since the tour began, ticket holders can visit a variety of homes ranging from multi-tenant buildings to single family houses. But this year's home tour is expanding beyond downtown dwellings to focus on the experience and benefits of urban living.
Downtown Raleigh continues to attract a diverse set of residents, who are seeking the benefits of a more urban lifestyle.  From innovative young professionals looking to more naturally collaborate and build social networks to empty nesters ready to simplify their lives and enjoy a more walkable and healthy lifestyle, downtown Raleigh is now more attractive than ever.…
[ Read More → ]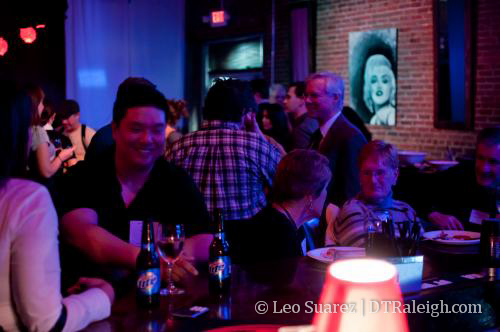 DLA members came out to Spy Raleigh on February 1st to mingle with neigbors and participate in a raffle for discounts at nearby businesses. This mixer was special this time because it marked the three year anniversary of the Downtown Living Advocates.
At the mixer, participants also had the oppurtunity to pre-order the first DLA t-shirt designed by CityFabric.
Make sure to keep an eye on the event calendar for future mixers and other meetups in downtown Raleigh.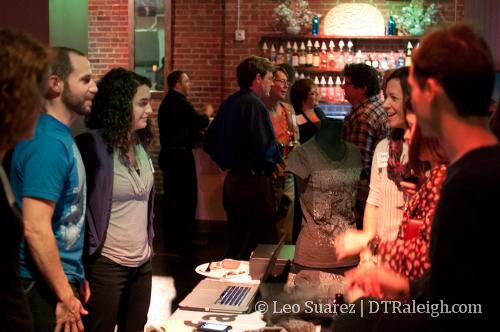 …
[ Read More → ]
Can you believe it has been three years since the DLA formed?  We can't either!  We couldn't have done it without such an active community of residents who care so much about Downtown Raleigh.
DLA Mixer
Wednesday, Feb 1st
5:30-7:30 pm
RSVP:  http://bit.ly/dlafeb1mixer
RSVP by noon on Wednesday and we'll have your name tag and raffle ticket waiting for you.
Dinner Plans?
 First 50 guests receive a $5 gift certificate to
Tuscan Blu
.
DLA T-SHIRTS FOR SALE  
City Fabric
has designed a one-of-a-kind T-shirt for the DLA to celebrate our 3-year milestone.
COME PLACE YOUR ORDER AT THE MIXER THIS WEDNESDAY
$20 for a custom designed t-shirt 
Get the right fit – shirts on hand at our mixer to try on
Payment by cash or check preferred (credit cards also accepted)
Shirts should arrive 2-3 weeks later
…
[ Read More → ]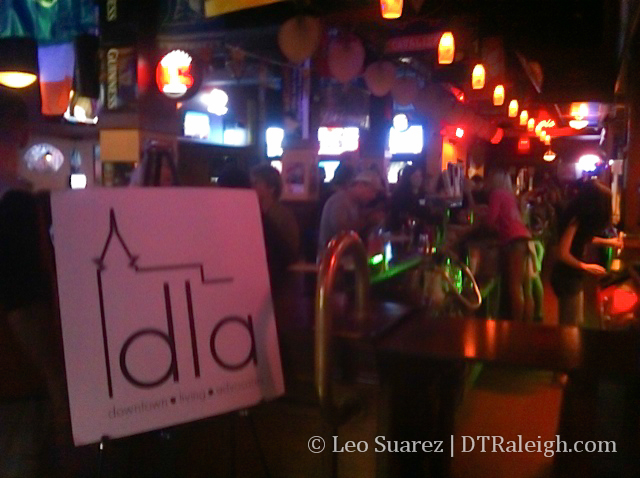 The DLA held their mixer at The Downtown Sports Bar and Grill this week. Lots of members showed up to enjoy a free drink, food, and participated in a raffle to win a 32″ LCD TV. Plans for the next mixer are still in the works but expect it to be in January of the new year.
Make sure to sign up for future updates and mixers or check the calendar.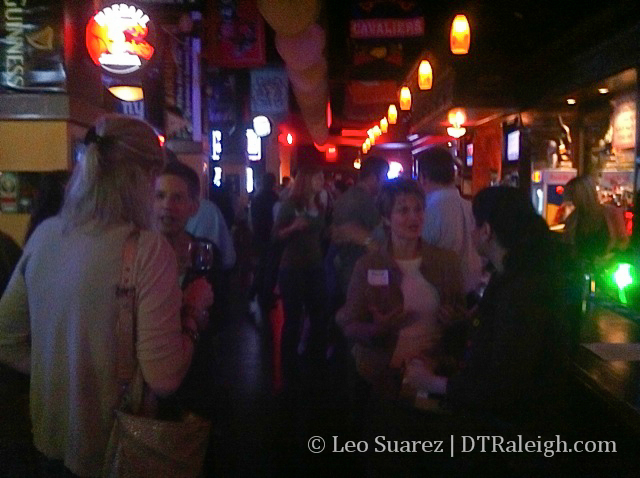 …
[ Read More → ]
For the third year in a row, Raleigh's Mosaic Wine et Lounge will present its ever growing seasonal dance music festival — staying true to form and raising the ambitious bar of innovative, live entertainment in the Triangle.
Over the course of 10 straight nights, this veteran club recognized for its dedication to bringing world-wide flavors of sensational sound to the Triangle dance music and entertainment scene promises a detailed pairing of internationally renowned DJs and producers intermixed with Triangle and North Carolina-based talent.
Keith Ward, resident Mosaic DJ and MFMF Program Director has crafted an experience that he intends to be as intoxicating for the visiting DJs as it will be for the reveling dancers in attendance.
"Since the inception of this festival in 2009, the goal has been to create an environment that not only allows the audience to interact with world-class DJs in an up close and personal way, but to also bring to the Triangle the same energy and cultural movements of sound that are happening all over the globe in major markets. To have a dance experience in such an intimate space like Mosaic with these creative talents just doesn't happen everyday," notes Ward. "For local and surrounding area audiences that can't travel to London's Fabric or New York's Cielo or Miami's Mansion to get into the sound of this caliber, this is for you."
With up to 75 artists currently programmed, the vibe will range from Deep House to Techno to Down Tempo to various forms of EDM with each thematic evening offering a variation of outdoor patio and indoor house sets grooving simultaneously.…
[ Read More → ]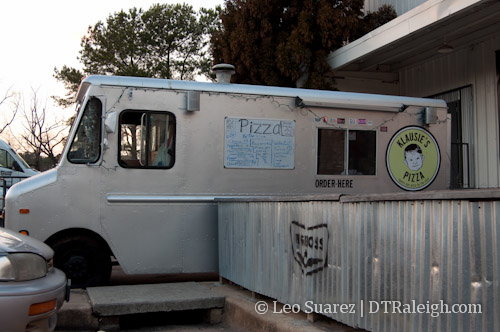 The state of eating and drinking continues to change and expand here in Downtown Raleigh. New restaurants are opening while others are re-inventing themselves. It's just part of the always growing revitalization that is happening here and residents are enjoying it in a big way.
A new twist on the food scene for downtown is the food trucks. The City of Raleigh is wrestling with ways to allow them to operate in our city fairly and safely. The debate has continued on for more than a year and the Downtown Living Advocates are making a case for the city to finally amend its zoning permits to allow food trucks to operate in downtown Raleigh with limitations on placement.…
[ Read More → ]
When our friend, Angela invited us to join her this week at the newly opened Babylon restaurant (309 N. Dawson St), she described it as "hidden in full sight." Just a few blocks east of Glenwood South, the building tucked on the west side of Dawson is actually more visible from Lane Street than Dawson. I recognized it immediately as the old mill I had always imagined converted into lofts like Patrick and Demi's in the movie Ghost. But Samad Hachby's imagination went a lot further than mine. As in to the other side of the world.
The Greek word Babylon means roughly "Gateway of the God" and that's what I felt walking through the entranceway into the candle-lit courtyard with stylish wicker tables arranged around a multi-sided reflecting pool, and bar crafted from Moroccan tiles.
…
[ Read More → ]